Banjo Concerto on Vintage Soundscapes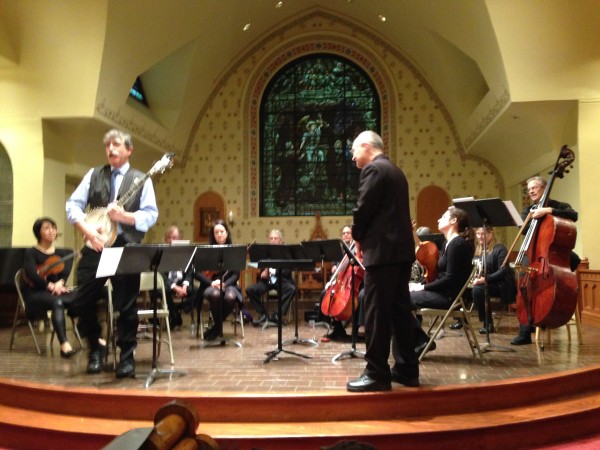 CONCERTO FOR BANJO & ORCHESTRA NOW AVAILABLE ON CD
Ken reprised his performance of "Concerto for Banjo and Orchestra" by Harold Schiffman in January 2016 with the North/South Chamber Orchestra under conductor Max Lifchitz in Manhattan. The entire ensemble went into the studio soon afterwards and the entire three movements appears as the first three tracks on the CD Vintage Soundscapes & More" (N/S #1064). Copies can be obtained through North/South Music or via this website
Several years ago, noted contemporary composer http://offsecnewbie.com/2020/12/29/vulnhub-sunset-decoy/ Harold Schiffman – himself an avid student of the 5-string – wrote a concerto in three movements for clawhammer banjo and orchestra. Mr. Schiffman wrote the piece with Ken in mind to play it, and Ken debuted the work in New York City in February 2014 with Max Lifchitz's ensemble, then known as the North/South Consonance. According to the composer, "the three-movement Banjo Concerto is cast in a traditional fast-slow-fast pattern. Inspired by Appalachian's melodies, the work's musical language recalls Baroque-era lute music while offering the soloist ample opportunity for technical display." The really cool thing about this Schiffman Concerto is how the open-back banjo holds its own as a non-amplified solo instrument in a classical ensemble! A lot of people happily describe the piece as "charming," which it is!!
In addition, here is an informal video recording of Ken's performance.
"Banjo Concerto" on Vintage Soundscapes

New! Vintage Soundscapes opens with Ken's performance as soloist in "Banjo Concerto," Harold Schiffman's three-movement composition for clawhammer banjo & orchestra, accompanied by the North/South Chamber Orchestra under the direction of Max Lifchitz. Also featured on the recording are compositions by Schiffman, Lifchitz, Elizabeth Bell, Edward Green, and Federico Ermirio.