Prince Edward Island Fiddling Project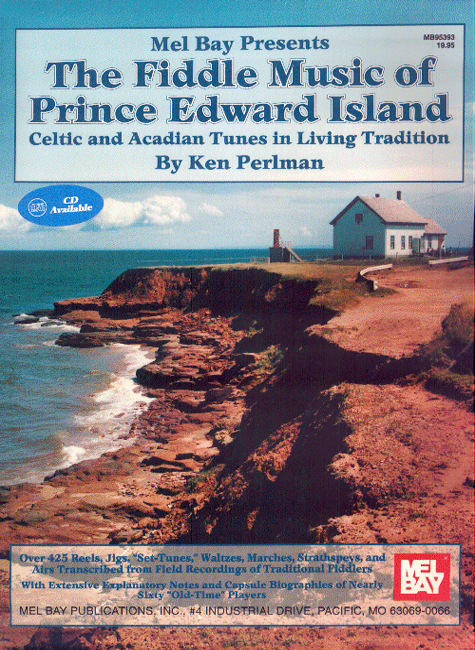 Ken's Work with Traditional Fiddling on Prince Edward Island
Ken has spent over twenty-five years collecting and studying the fiddle music and related folklore of Prince Edward Island (PEI). According to Fiddler Magazine, his tune-book The Fiddle Music of Prince Edward Island: Celtic and Acadian Tunes in Living Tradition(Mel Bay Publications), "rates as the most important published contribution to the study of a Canadian Maritime fiddle tradition." He has also served as producer for three field-recording projects involving PEI. fiddlers: The Old Time Fiddlers of Prince Edward Island (Marimac), The Fiddle Music of PEI companion CD, and a two-CD set called The Prince Edward Island Style of Fiddling (Rounder).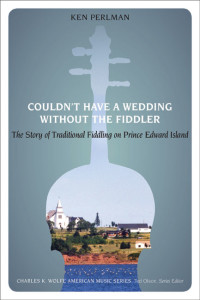 Couldn't Have a Wedding Without the Fiddler: the Story of Traditional Fiddling on Prince Edward Island
Ken's book on the history and cultural background of traditional Prince Edward Island fiddling – based on oral histories collected from over 150 fiddlers and other "Islanders" – has been published recently by University of Tennessee Press. The title is Couldn't Have a Wedding Without the Fiddler: the Story of Traditional Fiddling on Prince Edward Island http://rhythmsfitness.com/wp-json/oembed/1.0/embed?url=http://rhythmsfitness.com/classes/zumba-toning/ .
The Prince Edward Island Style of Fiddling (Rounder Recordings)
This two-CD set, The Prince Edward Island Style of Fiddling:Fiddlers of Eastern PEI and Fiddlers of Western PEI was created when the last generation of PEI's traditional old-time fiddlers were still at the height of their powers. There are some wonderful performances on these recordings, which are now effectively out of print (Rounder's successor is willing to print additional copies, but only if there is an unrealistically high advance order). Fortunately, you can still hear performances by nearly all of these great players on the PEI traditional fiddling website, bowingdownhome.ca. Click for some reviews of this project.
The Old-Time Fiddlers of Prince Edward Island (Marimac Recordings)
This project was issued in the early 1990s by Marimac Recordings as a cassette with 16-pp. companion booklet. It is now out of print, but almost all the tracks have been incorporated into the Bowing Down Home website. Fiddlers featured include Eddy Arsenault, Wilfred Bernard, Kenny Chaisson, Peter Chaisson Jr., Peter Chaisson Sr., Fr. Charles Cheverie, Peter Doiron, Emmett Hughes, Andrew Jones, Buddy Longaphie, Gus Longaphie, Allan MacDonald, Francis MacDonald, Paul MacDonald, George MacPhee, Angus McPhee, Attwood O'Connor, Elmer Robinson, Ervan Sonier and Toussaint Arsenault, Reuben Smith, Archie Stewart, Stephen Toole, Teresa MacPhee Wilson and Jenny O'Hanley McQuaid, and Richard Wood.
Check out the PEI Traditional Fiddling Website, Bowing Down Home
The PEI Traditional Fiddling Website (known as Bowing Down Home), based on the field recordings Ken collected in 1991-92 and 2006 is now online. There are well over 1500 musical selections and 400 oral history selections available on the site, hundreds of photographs and video clips, and a host of expository materials. Bowing Down Home is hosted by the Robertson Library at the University of Prince Edward Island in Charlottetown and was constructed by Rosie Lefaive and a team at Robertson under the leadership of Mark Leggott using a state of the art program called Islandora, which was pioneered at UPEI under Mark's direction. The URL is bowingdownhome.ca.
Reviews
The Globe and Mail | Toronto: Jan 9, 1998
Ken Perlman, PEI Saviour: A Folkie Puts Island Fiddling Back on the Musical Map
Yao By Rick McGinnis, Special to The Globe and Mail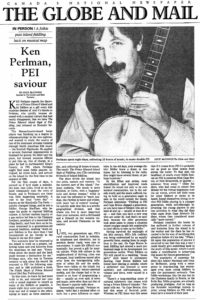 Ken Perlman regards his discovery of Prince Edward Island and its fiddlers as a gift every folk musician dreams of. And it's thanks to Perlman, who quickly became obsessed with a musical culture that had nearly disappeared, that we have The Prince Edward Island Style of Fiddling, just released on Rounder Records.
The Massachusetts-based banjo player was finishing up a degree in ethnomusicology in the late eighties, and wanted to study the source of one of the dominant streams running through North American folk music — the Scottish Highlands. He applied to several fraternal organizations in Scotland for grants. He didn't get the grant, but instead, someone offered to put him up, free of charge, at a place he had in northeastern King's County, in PEI, where Perlman might find some fiddle players. Intrigued, he wrote back, and arrived on the island for the first time in the summer of 1989.
For the first couple of days, it seemed as if he'd made a mistake. His host, Dan Gillis, lived in an isolated community near the town of Souris, and to Perlman's eye there was little happening musically. A visit to the local "town day" — known as the Monticello Tea Party — quickly changed things, and he met a fiddler, George MacPhee, who became his guide to regional fiddling culture. A further random inquiry at a gas station led him to the Chaisson brothers,members of a renowned fiddling family, and from then on he became immersed in a generations-old musical tradition,meeting "more expert fiddlers in five days than I had encountered on my travels in the States in the last five years"'
Two summers later he returned to the island to work on a project, collecting tunes and oral histories from the musicians he had met. "Everything about the music and the landscape became a fascination for me," Perlman says, who was in Toronto recently to talk about his record. He returned to PEl the following summer, and in 1996 published a book, The Fiddle Music of Prince Edward Island (Mel Bay Publications).
By that time, he knew he had more work to do, and returned last year with a sound engineer to record as many of the fiddlers as possible. A manic eight days were spent rushing from one end of island to the other, taping as many as three sessions a day, and collecting 25 hours of music. The result: The Prince Edward Island Style of Fiddling, two CDs containing 60 tracks of island fiddling.
The discs divide the island into two poles, eastern and western. "In the eastern part of the island," Perlman explains,"the music is more Scottish, or Celtic, with a `bag-pipey' style and slower tempos," while in the west the influence is"more Acadian, the rhythm is faster and wilder, with more `out of control' bowing." He quickly adds that this is a strictly geographical division, and that where you live is more important than your surname, with a McDonald and a Driscoll on the western volume, and several Chaissons on the eastern.
Until two generations ago, PEI's rural communities lived in isolation, as telephones and electricity, not to mention decent roads, were rare or non-existent. It made life difficult economically, but proved a gift for musical culture. While folk culture in the neighbourhood of thriving cities was swamped, local traditions stayed alive away from the
homogenizing influence of urban life and the media. There were radios on the island, but they were inevitably battery-operated models, and the charge had to be rationed to an hour of programming a day — usually an even split of news and music, more often than not that of Don Messer's popular radio show.
"Interestingly enough," Perlman explains, "radio had a minimal effect on style, but a great influence on repertoire.In the old days, your average district fiddler knew a dozen or two tunes, but by listening to the radio, they might know several dozen, or perhaps hundreds."
By the fifties and sixties, rural electrification and improved roads linked the island not only to its own isolated communities, but to the outside world, and the music suffered, losing its old on.a generation eager to take in the world outside the island. Perlman elaborates: "Fiddling in PEI and Cape Breton skipped a generation, so you have tons of fiddlers who are at east 40 and up — usually at least 60 or up — and then you have a new crop who are under 20.And that's no accident, because the older generation took great pains to create a situation where younger people felt comfortable in their efforts to take up the fiddle."
Having survived the onslaught of the 20th century, PEI's folk tradition was being undermined by an equally powerful force, coming from its neighbour to the east. On Cape Breton Island, fiddling had entered a more professional stage in its development two generations earlier. While fiddlers on PEI still played in a rambling, "house party" style meant to accompany dancing, Cape Breton fiddlers had honed their playing at ceilidhs, where a performer was listened to more carefully, and self-expression, not volume and drive, were valued in a player.
"There's a long-standing sense of cultural inferiority that comes with being a Prince Edward Islander," Perlman tells me. "In Cape Breton, they had this sense or Scottish pride. Whereas on PEI there was this sense that if it comes from PEI it's probably not as good as what comes from across the water. To that end, the headliner of nearly every fiddle festival on PEI is someone from Cape Breton, or New Brunswick, or Quebec — someone 'from away.' "
Older fiddlers, who had come to resent Don Messer for his virtual hegemony over the airwaves, which left little room for other fiddlers or styles to be heard, found themselves trying to revive PEI fiddle playing in a younger generation, while self-effacingly instructing the young players to pay less attention to what they did than what came from Cape Breton's fiddlers, whom they considered musically "more correct."
Perlman considers the books he has authored (a further volume of oral histories from the island is in the works)and the discs he has recorded to be his way of rectifying this situation before it's too late, "When I hit upon this population of players it occurred to me that this was a way I could really give something back to the study of this music, where I could make a contribution to preserving this music for future generations."
The popularity of superstar fiddlers like Ashley MacIsaac and Natalie McMaster, along with a resurgence in step-dancing, has encouraged even more young fiddlers to take the instrument seriously. Free fiddle workshops, like the one run by the Chaisson family in Souris, or the Rollo Bay fiddle program, are already producing prodigies. And as long as the Rounder recordings remain in print, young fiddlers on PEI will always have a record of their past.
The Guardian (Charlottetown, Prince Edward Island: May 10 1996)
Fiddlers Take a Bow: Musician launches book about PEI fiddle music tonight
By Steve Sharratt

Milltown Cross — When Attwood O'Connor made his first tune, he was just a young fellow digging clams off Boughton Island. "I remember it well," says the 74-year-old fiddler. "We kept humming it over and over until we got home to play it."
That was 1940 and O'Connor and his buddy Frank MacCormack dropped the clams, picked up the, fiddles and composed the "Clam Digger s Breakdown," O'Connor said he never thought it would end up in a book.
But along with the tunes and styles of 50 other Island fiddlers, O'Connor's composition is now chronicled for posterity in a new book and field recording researched and produced by a tenacious folk musician by the name of Ken Perlman.
The Boston-area banjo player is an ethnomusicologist. Like the archaeologist searches for the lost city, Perlman searches for the lost music of a culture — music as it was played before outside influences began to taint the style. His book, The Fiddle Music of Prince Edward Island; Celtic and Acadian Tunes in Living Tradition, will be launched tonight at an open house at the Benevolent Irish Society on North River Road in Charlottetown.
After a few speeches and some introductions, a ceilidh to remember will likely be held, featuring many of the fiddlers from across the Island featured in the richly- produced offering published worldwide by Mel Bay.
It's taken more than six years for the exhaustive and meticulously researched book and CD recording to reach this stage, but it's destined to become the definitive profile of Island fiddlers.
Perlman arrived on P.E.I. in the summer of 1989 at the invitation of Dan Gillis of lona House. He soon found himself in kitchens from North Lake to Tignish accompanying fiddlers and taking notes on styles and influences. He interviewed almost 90 fiddlers, and says there's still more to go.
"There's a very unique style on P.E.I., but it's largely taken for granted," Perlman says. "It's much like the American south of the 1930's."
Attwood O'Connor started playing when he was seven and can remember big sessions and dances years ago in his own neck of the woods between Montague and Murray River: "Archie Stewart and all the boys would play… those were fiddlin' days. Now it's hard to find but a few of us to do some tunes."
For Perlman, the most interesting aspect of the project — which gathered 425 selections — was to meet the fiddlers and record the unique styles from one part of the province to the other. "So many fiddlers have a different twist on a tune," said the lanky researcher.
The Guardian (Charlottetown, Prince Edward Island: Oct 10 1997)
A Passion for fiddling: Ken Perlman releases new recording featuring many of PEI's celebrated fiddlers.
BY DOUG GALLANT
The fiddle music of Prince Edward Island has struck a responsive chord in many visitors to these red clay shores but few have been drawn to the music the way Ken Perlman has. In the early part of this decade he traveled from one end of P.E.I. to the other armed with a tape recorder to compile an oral history of Island fiddlers and their music. Last year, using material culled from those tapes and some additional materials, he published a book that included both their words and the sheet music to many of the songs they played.
This year the ethnomusicologist from Arlington Mass. has produced what may be his most ambitious undertaking yet,a recording featuring many of P.E.I.'s most celebrated fiddlers, playing the music they grew up with. Released on the prestigious Rounder Records label, The Prince Edward Island Style Of Fiddling is a double CD set featuring some two hours of music.
The music was recorded during no less than 20 sessions Perlman and veteran engineer Paul MacDonald of Cape Breton packed into eight days in the fall of 1996.
Perlman said he felt compelled to produce this album for a number of reasons. "As an ethnomusicologist I wanted to make a contribution to recorded music," Perlman said. "But I also wanted to preserve the fiddle music of P.E.I. for all time, before it begins to disappear."
The album is divided into two parts, one devoted to the music of western P.E.I. which celebrates the Acadian tradition, the other devoted to the music of eastern P.E.I. which reflects the Scottish traditional fiddling style. Perlman used the best fiddlers available at the time to make the recordings but is careful to point out, lest anyone feel slighted, that not everybody he had hoped to use was available.
"Some people we wanted just weren't on the Island then. Some had other commitments. Some we wanted had died since I'd first traveled the Island with a tape recorder and some others simply no longer played for one reason or another."
Fiddlers on the disc representing Western P.E.I. include Dennis Pitre, Eddy Arsenault, his nephew Peter Arsenault, Leonard MacDonald, Peter Doiron, Harry Lecky, Warren Leard, Zella Gaudet, Alton Silliker and Armand Arsenault, who demonstrates a style of mouth music. The disc representing the East utilized the fiddling talent of (old) Peter Chaisson and his nephew (young) Peter Chaisson, Attwood O'Connor, Archie Stewart, George MacPhee, Elliott Wight, Carl and Jackie Webster and Angus MacPhee.
Perlman and MacDonald taped fiddlers in their homes, usually setting up their digital tape recorders and microphones in the kitchen. They were looking mostly for tunes that were distinct to P.E.I. so they did request to record some songs. But they also invited fiddlers to play anything they wanted to play. And they invited them to bring in any other musicians they wanted to play with. Most utilized the talents of people they were used to playing with."Some didn't bring anyone, but we had a very good P .E.I. piano player to fall back on who'd volunteered to help, Margaret MacKinnon. And she was just great. At one session she played not only piano but pump organ. The pump organ was interesting because fiddles and pump organs were often heard together in years gone by."
Recording sessions were conducted morning, noon and night and lasted anywhere from two to four hours. As many as three were done in a day. "Some of the days were very long but they produced some wonderful music and some great times. When we recorded Sid Baglole, for example, he played for four hours straight and never played the same song twice unless we asked him to. This was a man of 85 who'd had a stroke only two years earlier."
Some were nervous, and a little intimidated by the process. Others, like Baglole, who has since died, were not. By the time he completed the recording sessions, Perlman had 25 hours of raw tape, far more than he would ever be able to use. Guardian photo by Mary MacKay Perlman then spent several weeks engaged in the laborious task of editing the tapes down to a workable two hours worth of material, material like "Island Boy, " "the Prince Edward Island Wedding Reel" and "the Walking On Water Reel."
To insure the finest sound quality available, the tapes were mastered in a state-of- the-art recording facility. He also threw himself into the production of other elements of this package.
In addition to the music the double disc package also includes a 20-page booklet containing a general history of P.E.I. fiddle music, a blurb on each of the songs and several photographs. It was a labor of love for Perlman and he said he hopes those who hear this music will enjoy it as much as he did and recognize its worth.
Reviews of the Rounder 2-CD set The PEI Style of Fiddling
THE OLD-TIME HERALD By Wm. N. Hicks
There are many ways on many levels to laud this magnificent recording project. Mr. Perlman has spent several years studying the music of Prince Edward Island, and has previously published a tune-book, The Fiddle Music of Prince Edward Island: Celtic and Acadian Tunes in Living Tradition (Mel Bay, 1996) which includes most of these tunes in written form.
It is only with this background that Perlman could have accomplished the daunting project he describes in his fine and detailed notes to these CDs: "Sound engineer Paul MacDonald and I had just eight days to record this project.
We logged a couple of thousand miles of driving, conducted over twenty recording sessions in fiddlers' kitchens and parlors, and amassed about twenty-five hours of raw tape." Accomplish it he did. So, on one level we have before us this amazing musical portrait of a whole subculture of fiddling, fiddler after fiddler, all with their own styles (though Perlman does explicitly stress this fairly obvious distinction between east P.E.I. and west P.E.I. styles by dividing the two CDs along these lines, the former distinguished more by Acadian motifs, the later by Cape Breton and Scottish resonances, particularly in bow technique) Indeed, should one ever want to spend time studying the whole concept — I can imagine a very dry and dusty advanced fiddle class called "Fiddle Style: What the Hell Is It?"-this two volume set of CDs could certainly serve as the text. Envision a similar set called, say, "West Virginia Fiddling" or "Missouri Fiddling." Scary, isn't it.
One of the most wonderful things about this project is the fact that almost no one recorded herein, is in any sense a professional musician. There is thus this portraiture aspect to the CDs that I find thrilling-a musical picture of this remote place, which most of us have never seen, or might only see from the air maybe a drive across the island once,in 1968, on the way to Cape Breton; I remember only green and flat). There is this intimacy here, of these kitchens and parlors Perlman mentions, of the whoops and laughs that end some of the tunes. On the Western CD, Eddy Arsenault introduces his Own "Draggers' Reel" by saying, "I was draggin' for flounder and cod, and the motor was makin' so much noise, and I got annoyed with that, with the noise, y'know, and I said to meself, I said, I'm goin, to make a tune out a that, I get so tired of that: so I come home one night and I made a tune, and I called it 'The Dragger's Reel."' And it's a good one. it's like Rev. Gary Davis once sang: "I heard a little voice inside my watch sayin' 'Little more faith in Jesus."'
Yet P.E.I is not so isolated that there aren't wisps of tunes almost everyone knows, but played the P.E.I. way. This is maybe the best way to understand style. Perhaps the most striking of these is "St. Anne's Reel" on the Western volume. As Perlman says, "The common North American tune, 'St. Anne's Reel' …first reached the island in the 1930s via broadcasts from Quebec. Since step-dancers were unable to get good lift from the tune in its original form, alterations had to be made in its melody. ..as can be heard in the version by Dennis Pitre. …"(If this were written in hyper-text or Java or something, you could now hear a snatch of the tune by clicking
on it's title — Oh well, buy the collection!} A nice thing to do on a cold winter's night would be to read Shipping News by the fire with these CDs playing in the background. Now put the book down for a minute and think about what the phrase "good lift" might mean.
At another level, when i said the musicians aren't professionals, I didn't mean they aren't very good players. Most play for local dances, and would surely be a joy to dance to. (They give "good lift.") Though the accompanying pianos and guitars (and pump organs!!) are sometimes too far back in the mix for my taste, the backup is also great, and well worth studying and thinking about. Indeed, if you are a player, and are feeling like your repertoire of dance tunes is getting, well, stale, just sit down and learn some of these tunes. I'll bet no one on your block is playing "Island Boy" or The Miramichi Fire," east or west P.E.I. versions, as yet. And do work on the "Cock of the North/Uncle Jim" medley. With these tunes under your belt, or in your noggin' or wherever tunes get stored, you'll surely get more calls to play for dances. I seem to be awash in superlatives. Do you get the picture? (The CD booklets feature great photos of all the fiddlers. Surprise!) Get these two CDs. Listen to them a whole lot. That's an order.
WEEKLY ALIBI by Michael Henningsen
Although these two volumes are available and sold as separate collections, it's important to listen to each within the context of and juxtaposition against the other. Prince Edward Island is Canada's smallest province occupying just 2,000 square miles off the Atlantic Coast between the neighboring provinces of New Brunswick and Nova Scotia. But for such a-small island, the eastern and western portions couldn't be more different when it comes to the old-time fiddling that has been a major pastime and cultural document keeping alive the spirit and heritage of the Acadian- French,Scottish and Irish immigrants who originally settled on Prince Edward Island.
These Rounder recordings are a spectacularly successful attempt at presenting island fiddling as it has been performed on Prince Edward since the early-18th century with the arrival of the first Acadian-French settlers. By the late 18th century, Scottish immigrants had arrived on the eastern part of the island, melding their own music, which was greatly influenced by the Highland and uillean pipes of their homeland, with the unique rhythmic pulse of Acadian-French folk tunes. And what is now referred to as "old-time" fiddling was born. Several generations later, Irish immigrants began to occupy the western potion of the island, allowing the Acadian-French rhythmic influence to become central to their traditional reels, stomps and jigs. It is this — the fiddling style of western Prince Edward Island — that most closely resembles the fiddling found in America, in communities nestled quietly in the Ozarks, Appalachians and in the deep South. For just as Irish settlers looked west towards Canada. so, too, did they immigrate to the United Stales, bringing their music with them.
Both the eastern and western variations share several distinctive qualities. not the least of which is the driving rhythmic style and predominance of uplifting. twirling melodies. Old-time fiddling was after all, central to social interaction and gatherings on both sides of Prince Edward Island. Life on the island Was rural until the early 1950s and residents, often without the benefits of electricity, running water and other North American amenities, relied upon family and community traditions to hold them together. Island fiddlers, for instance, were vital to the success of any wedding, holiday, festival or other community events. Fiddlers were often employed for fund raising duties as well, giving dances and providing music for the smaller more private house parties.
The major difference between the two volumes of wonderful fiddle music on this set of recordings is that the Scottish-influenced The Fiddlers of Eastern Prince Edward Island is slightly more subtle, thriving on the vibrance and mystery of traditional Scottish pipe music. while the western-concentrated volume reveals the gaiety and joyousness of the instrument and of the folk communities to whom it was a vital source of entertainment and an important historical testament. It's quite surprising, really in listening to both volumes consecutively, that there are such noticeable stylistic differences. In some instances, the crossover between eastern and western styles is fairly obvious. But, for the most part the music that makes up each volume of this stunning collection sounds as though it comes from lands thousands, rather than hundreds, of miles apart. And because old-time fiddling is quickly becoming a lost art — the median age of most old-time players on Prince Edward Island is now about 70 — this collection of 60 tunes contain music that may well never be heard quite this way again. The fiddling tradition is one passed like folklore, from the old to the young. from the voice to the ear. With few exceptions. the fiddle music of Prince Edward Island is unwritten and, therefore, changing slightly down through the generations. These recordings preserve some of the very old while documenting some of the new: an admirable feat and one that is truly a pleasure to listen to.