Frails & Frolics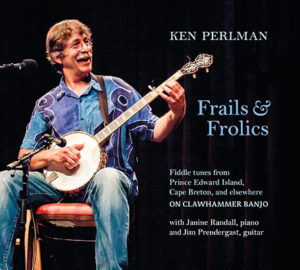 Fiddle Tunes From Prince Edward Island, Cape Breton and Elsewhere on Clawhammer Banjo
isotretinoin ordering Frails buy gabapentin online uk & Frolics includes over 45 tunes, most of them collected by Ken from traditional fiddlers on Prince Edward Island, arranged on banjo to reflect all their authentic flavor and nuance, and organized into sets (medleys). There are reel sets, jig sets, and "Scottish sets" creating a musical tapestry by combining different kinds of tunes with different tempos. There's a special art to putting these sets together: each new tune needs to have a contrasting feel and offer a sense of expanding energy. 17 cuts featuring 47 tunes; comes with an 8pp. booklet offering an introduction by Ken, historical notes on all the tunes, plus keys, modes and – for banjo players – tuning information.
Also worthy of mention… it's pretty safe to say that most of these tunes have never before been successfully played on 5-string banjo (and very likely this is the first appearance for some tunes on a "commercial" recording). Several sets of tunes involve one or more key changes (always a challenge in clawhammer where the usual practice is to retune for each separate key), and a few sets explore tunes "on the flats" (in the flat keys) without resorting to a capo. A few tune arrangements, or "settings" range about as far up the neck as you'll hear clawhammer go, and I continue my exploration of 6/8 time (no less than three sets of really cool jigs!).
Some musical samples are available through links inserted into the playlist.
About the title…  Frails & Frolics is primarily a whimsical phrase, but it does aptly describe the project. "Frailing" is an alternative name for clawhammer, and in fact was the most common name for the style when I first became aware of it in the 1960s. "Frolic" is the once widespread name for an occasion where the community gathers for an activity – harvesting, wood-cutting, barn-raising; then in the evening there's a big supper and square or contra dance, with music provided by local fiddlers.
Ken's Most Recent CD!! Frails & Frolics: Fiddle tunes from Prince Edward Island, Cape Breton, & Elsewhere on Clawhammer Banjo

Ken's first all-banjo recording and his first solo project in years. He has collected some truly wonderful reels, hornpipes, jigs, strathspeys, waltzes and airs, arranged them beautifully for banjo, and crafted them into entertaining  "sets" or medleys. Also features some Southern numbers. Accompanied by Janine Randall, piano, and on others by Jim Prendergast, guitar. 17 cuts presenting over 45 different tunes; with 8pp. booklet featuring intro, notes on all tunes, keys, and banjo tuning info.

15.00

 
Audio Samples
Jenny Dang The Weaver /  Sleepy Maggie

Omar Cheverie's Jig

Dallas Rag

North Side of the Grampians / Jack Webster's Reel

Trip To Windsor

The Marchioness of Tullibardine / Dinky's Reel

Fred Wilson's Hornpipe

Playlist
Londonderry Hornpipe / Jenny Dang the Weaver / Sleepy Maggie
Dr. Keith Strathspey / Miss Barker's Hornpipe / Carney's Canter
Omar Cheverie's Jig / Fig for a Kiss / Hector MacDonald's Jig
Pride of the Ball / MacKinnon's Rant / Lasses of Glenalladale / St. Kilda Wedding
Bonniest Lass in A' the World / Emil Gaudet's Reel / Chetticamp Reel
Dallas Rag
North Side of the Grampians / Jack Webster's Reel / Souris Breakwater
Rose of Tennessee / Don't Be Teasing / Whiskey Jig
Carlton County Breakdown / Miller's Reel /Trip to Windsor
Where the North River Flows
The Marchioness of Tullibardine / Dinky's Reel/ Little Donald in the Pigpen
Hector's New Dance Hall / Hector's Fancy / Durang's Hornpipe
Fred Wilson's Hornpipe / High Level Hornpipe
Ottawa Valley Reel / Lad O'beirne's / Marie à Pierre
The Bonny Lea Rig / Shores of Loughgowna / Teviot Bridge
Tennessee Mountain Fox Chase
George V's Army / Mr. Murray Strathspey / The Marquis of Huntley / Prince Edward Island Wedding Reel
Reviews
Ken Perlman is a master banjo player. A long time ago, he looked at the banjo and the perceived limitations of the instrument and proceeded to take clawhammer banjo to places no one else has gone with as much success. The famous bum-ditty rhythm of the most basic style is not to be found here. What we do find is a master in his long pursuit of the music of Cape Breton and Prince Edward Island, playing tunes once thought unplayable on the clawhammer banjo. Historians have noted that one of the most significant differences between music of the North and South is that fiddle tunes were adjusted for the rhythm of the banjo in the South. Well, now the banjo has been changed for the rhythm of the fiddle. Using a great deal of dropthumb and many sophisticated noting hand techniques, Perlman captures the idiosyncratic melodic and ornamentations of these Canadian styles. On one of those tracks, "Dallas Rag," Perlman takes another timing challenge and sets the record straight by playing the rag in two keys proving that, although the rag timing is counter to the traditional bum-ditty, it can be done and it's a masterful performance. The only Appalachian tune here is "Tennessee Mountain Fox Chase" with its own unique timing challenges. If you think you know clawhammer banjo and it all sounds the same, think again. (Bluegrass Unlimited)
It's difficult to know where to start with this review because Ken Perlman plays an astonishing selection of tunes which any self-respecting clawhammer player knows are impossible to play on the banjo. That is to say, Perlman is obviously a wizard, using spells and incantations to conjure up these tunes which are too difficult for the average player to contemplate and yet he dashes them off with verve, joie de vivre and above all, great musicality. And there are tunes a-plenty—46 little gems, largely played in sets and demonstrating a level of virtuosity only surpassed by Ken's enthusiasm for the music. In the second part of Londonderry Hornpipe, Ken demonstrates the art of holding on to a bass note and letting it ring as the melody dances above it. In Jenny Dang The Weaver, his triplet playing is as smooth as any fiddler's. Carney's Canter sees Ken leaping all over the neck without missing a beat, and throwing in triplets for good measure.  Jigs shouldn't be possible using clawhammer techniques, but Omar Cheverie proves they are and Hector MacDonald evokes the skirl of the bagpipes. Track four, including MacKinnon's Rant, is a breathless romp through rural Scotland. Then everything slows down for the touching air Bonniest Lass in A' The World before the lass in question leaps up and dances a couple of reels.  Dallas Rag is played with great humour and demonstrates that syncopation and chromatic runs are easy in clawhammer style if you practice for 40 years. Set 12, including Durang's Hornpipe and set 14, including Ottawa Valley Reel are two of my favourites. There are strathspeys, jigs, reels, rants and hornpipes in profusion here, and the final set includes some beautiful note-perfect playing up the neck. The only way you'll get to experience Ken's virtuosity is to go out and buy his album. Whatever your preferred style of playing, you'll find something here.  (BMG – BanjoMandolinGuitar)
The appearance of a new CD by Ken Perlman is inevitably an important event in the banjo universe. . . The vast majority of 5-string players couldn't begin to handle this challenging repertoire. Consequently, it's amazing that Ken, wielding a 5-string in clawhammer style, can absolutely nail all those scales, arpeggios, trills, intricate phrases, and challenging dance rhythms. . . . This album presents a terrific selection of a wide variety of tunes. The [tunes] that are combined into medleys are very well selected and, taken together, they develop and hold your attention like a finely-crafted novel. . . Ken has outdone himself with this lovely collection of brilliantly played tunes from a vibrant center of Celtic music located right here in the Western Hemisphere. And Ken has given us an object lesson in the tremendous versatility and agility of the clawhammer style. I strongly recommend this album for clawhammer players and fans of Celtic dance music. (Banjo Newsletter)
Listening to Ken Perlman fly through a set of dance tunes provides a masterclass on the melodic possibilities not often explored on the five-string banjo. The tunes showcase Perlman's immaculate playing style. It's truly a marvel how he can manage to sound all notes of a fiddle. His triplets and trills are masterful. . .  Perlman is accompanied by Janine Randall on piano on various tracks; there is something delightful in the interplay between Perlman's banjo and Randall's piano in this particular style of music. The banjo-piano duets are playful and airy . . . The album is nicely sequenced, varying tempos to provide, dare I say, a frolicking aural experience. Perlman's tune selection and execution are impeccable, [and] each listen seems to illicit new surprises. Perlman's masterful banjo picking never ceases to amaze. (Glory Beaming Banjo [Blog])
Ken's playing is inspiring almost to the point of impossibility. Being a clawhammer player myself, his dedication is obvious and successful. One can appreciate, by listening, the amount of time and effort in collecting, arranging, and performing these tunes. You can hear the influence of the great fiddle players in his playing, while at the same time respecting their origins and tradition. (Bluegrass Ireland Blog)
Ken's outstanding book on the fiddle music of Prince Edward Island, Can't Have A Wed- ding Without A Fiddler, deservedly won fulsome praise in these pages and the majority of the music on this album come from the PEI repertoire that he knows and understands intimately. . . . This Bostonian is a banjo player and an entertaining and very talented one at that as anyone has seen him one his British tours would surely agree. Not many of us will be used to hearing strathspeys and waltzes played on the banjo but Ken manages it with great conviction. His choice of material and the way the album is programmed shows that a great deal of thought has gone into it. Some very fine tunes are included and even after quite a few playings, it hasn't been possible to listen to the mesmerising four-part pipe march, "The Marchioness Of Tullibardine" without hitting the repeat button at least once. Janine is his accompanist on just over half the tracks and on the rest he is backed by the guitar of Jim Prendergast. Both manage to considerably enhance his playing without encroaching on the way he wants to interpret the tune. This is a straight, no-frills album of traditional dance music and it is from the top drawer of this type of album. (fRoots Magazine).