Ken Perlman's Home Page
Superb instrumentalist, acclaimed teacher of instrumental skills, gifted performer, award-winning folklorist, Ken Perlman is surely a welcome addition to any festival or concert-series lineup. Ken is both a pioneer of the 5-string banjo style known as "melodic clawhammer" and a master of fingerstyle guitar. He is considered one of the top clawhammer players in the world, known in particular for his skillful adaptations of Celtic tunes to the style. On guitar, Ken's sparkling finger-picked renditions of traditional Celtic and Southern fiddle tunes are simply not to be missed. Click for more about Ken.
Current Events & Announcements
Ken to Appear and Teach at "Fiddle Hell" in Nov. '17
Ken will appear at Fiddle Hell, an event which obviously is "not just for fiddlers." He will offer a few workshops in clawhammer plus a workshop for all instruments on Prince Edward Island tunes; and – along with Alan Kaufman – he will lead a jam devoted to tunes collected by late fiddling great Alan Jabbour (Alan Kaufman and Ken will also perform one of Alan Jabbour's tunes on stage). Dates are Nov. 3-5; place is Westford, Mass.
Ken Offered Master's Showcase at "Clifftop" in August '17
Ken gave a Masters' Showcase at the 2017 Appalachian String Band Festival, popularly known as "Clifftop".  According to organizer Bobby Taylor, these Masters' events are set up to "showcase the legends who have dedicated their lives to the preservation and presentation of old-time music." Ken says, "It was truly inspiring to play in front of so many dedicated musicians!"
In 2016, Ken served as a judge at Clifftop for  both the banjo contest and the neo-traditional band contest.
New Solo CD on the Way
Ken completed recording his latest solo CD, and is in the very last stages of production. The project – Ken's first solo CD  since Northern Banjo (2001), and his first devoted entirely to banjo – features mostly some terrific tunes that Ken collected on Prince Edward Island. He is accompanied on some cuts by Jim Prendergast on guitar and on others by Janine Randall on piano. The title had changed a few times: the final version is Frails & Frolics. Projected release date: late Fall 2017
New Book en Route
Ken signed recently with Mel Bay to do a new tab/instruction book called Old-Time Appalachian Fiddle Tunes for Clawhammer Banjo. Ken draws on several decades of experience as a player and arranger to create authentic note-for-note settings of over 100 exquisite tunes. He also plans to devote a chapter to old-time backup, in the style he developed while touring with the late Alan Jabbour.
Ken Toured with Fiddler Bobby Taylor in Kentucky & Tennessee: March 2017
Ken and renowned West Virginia fiddler Bobby Taylor toured together as a duo in March 2017 in Kentucky & Tennessee. Bobby "apprenticed" with roots legend Clark Kessinger, is considered one of the finest old-time fiddlers around, and is a founder of the Appalachian String Band Festival (commonly known as "Clifftop"). On the itinerary were East Tennessee State University, Union College, Middle Tennessee State and a music school called Fiddle & Pick.
Ken's New Book About Prince Edward Island Fiddling
Couldn't Have a Wedding Without the Fiddler: The Story of Traditional Fiddling on Prince Edward Island was published in 2015 by University of Tennessee Press, and copies are now available through this site and elsewhere.
Note: Couldn't Have a Wedding is now available in digital format via "Kindle" on amazon.com, and through e-books.
Through narrative and the fiddlers' own words, Couldn't Have a Wedding brings the world of traditional fiddling on P.E.I. to life, covering such areas as dance parties and celebrations, attitudes and stereotypes about fidding, traditional music and community life, methods of learning, playing styles and repertoire, effects of contests and media, the decline of fiddling in the decades following World War II and the subsequent fiddling-revival movement. 462pp.
Here are some review excerpts:
[A]n amazingly comprehensive study of fiddling within its historical and social contexts. Perlman provides a history of fiddling on Prince Edward, blending this chronology with in-depth presentations of the social context for music making. The fieldwork integrates oral history with folklore and ethnomusicology in a method that is both extensive and intensive. [H]e gives us a nuanced portrait of the role of the fiddler. . . his treatment of genre and repertoire is especially strong . . .  [and] his analysis of dance in its relationship with fiddling is one of the finest treatments that integrate dance scholarship with folklore and ethnomusicology. His work will stand as a model not only for additional studies of old-time fiddling but also for those who wish to continue this integrative research approach for studying a range of other musical traditions.
(Gregory Hansen, Journal of American Folklore)
. . . a wonderful accomplishment, a landmark portrait. . . Very clearly a labor of love . . . a terrific accomplishment. It is methodical, based in deep knowledge and experience, well-written, and clearly very caring.
(Burt Feintuch, JFRR/ Journal of Folklore Research)
This book is a comprehensively researched, densely annotated, well organized and clearly written labor of love. It is a traditional music geek's dream. PEI is a cultural treasure trove of highland Scottish,Irish, and Acadian French folkways and Perlman provides a highly entertaining gold mine of anecdotes and analysis (from both an academic and a musician's perspective). The book is chock full of quotes from Islanders, which lend delightful charm, character, and ambience. Thisbook is just a marvelous glimpse into a little-known and seldom-researched area of the world that had and has a magnificent fiddle tradition, which deserves the wider recognition this work will provide. Top notch!"
(Kevin Carr, Fiddler Magazine)
This is a major piece of work which deserves wide attention . . . a must read. It is good for a general reader but beyond that I think that it should be required reading for anyone involved in what might be termed 'folk development.' There was a lot in the book that caused me to think and reassess some of my own opinions. At a time when many of our traditions are increasingly in the stewardship of people who might be better defined as 'arts professionals' than cultural insiders, this book may serve as a stimulus for them to be more inclusive. This book has set an incredibly high standard and is a credit to Ken Perlman.
(Pete Heywood, Living Traditions)
This is the crown jewel of Perlman's extensive research of the fiddling on Prince Edward Island. . The fall of and the revival of a traditional art are revealed. Fiddlers talk about their art and reflect on what it means to be a fiddler, the challenges of fiddling, and the changing role of fiddling on the island. Fine photographs put faces to the words. We learn about a people and their values. To read this book is to visit with these people and even though they are far removed from the Southern mountains, their lifestyle was and is very similar.
(Bluegrass Unlimited)
Click here for more information on Ken's new book. Click here to order a copy.
CONCERTO FOR BANJO & ORCHESTRA NOW AVAILABLE ON CD
Ken reprised his performance of "Concerto for Banjo and Orchestra" by Harold Schiffman in January 2016 with the North/South Chamber Orchestra under conductor Max Lifchitz in Manhattan. The entire ensemble went into the studio soon afterwards and the entire three movements appears as the first three tracks on the CD Vintage Soundscapes & More" (N/S #1064). Copies can be obtained through North/South Music or via this website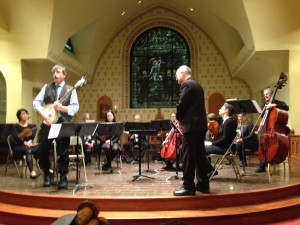 The story behind the Concerto. Several years ago, noted contemporary composer Harold Schiffman – himself an avid student of the 5-string – wrote a concerto in three movements for clawhammer banjo and orchestra. Mr. Schiffman wrote the piece with Ken in mind to play it, and Ken debuted the work in New York City in February 2014 with Max Lifchitz's ensemble, then known as the North/South Consonance. According to the composer, "the three-movement Banjo Concerto is cast in a traditional fast-slow-fast pattern. Inspired by Appalachian's melodies, the work's musical language recalls Baroque-era lute music while offering the soloist ample opportunity for technical display." The really cool thing about this Schiffman Concerto is how the open-back banjo holds its own as a non-amplified solo instrument in a classical ensemble! A lot of people happily describe the piece as "charming," which it is!!
A formal recording of the Concerto has been made and presumably it will be released on a CD in the near future.
Meanwhile an informal video recording of  Ken's performance can be accessed on his Facebook page; just click on this link and scroll down till you find it.
Alan Jabbour (1942-2017)
The great Appalachian-style fiddler Alan Jabbour passed away at his own home in Washington DC last January. Alan and I toured together for fifteen years, from the summer of 2000 until the state of his health intervened in the fall of 2015.  From the moment he touched bow to string and we started playing together there was a strong musical affinity – an uncanny blend of fiddle tone with banjo tone, along with the sharing of sensibilities and tastes. His approach was strong and powerfully rhythmic, but fully lyrical and delicately phrased – even "charming." As soon as I heard him interpret a tune – even one I had heard around the "scene" for years – that instantly became the definitive version for me, and one I fully wanted to emulate. He inspired me – not only to learn many dozens of his tunes note-for-note – but to develop a whole new way to accompany them that fit his style like a glove. This melding of fiddle and banjo can still be heard on several youtube clips, our CD Southern Summits, and – joined by Alan's old friend, guitarist Jim Watson – on You Can't Beat the Classics.
PEI Fiddling Website, Bowing Down Home Now Online!!
The PEI Traditional Fiddling Website (known as "Bowing Down Home"), based on the field recordings Ken collected in 1991-92 and 2006 has just gone up on line. There are well over 1500 musical selections and 400 oral history selections available on the site, hundreds of photographs and video clips, and a host of expository materials. Bowing Down Home is hosted by the Robertson Library at the University of Prince Edward Island in Charlottetown and was constructed by Rosie Lefaive and a team at Robertson under the leadership of Mark Leggott using a state of the art program called Islandora, which was pioneered at UPEI under Mark's direction. The URL is bowingdownhome.ca.
Tribute to Pete Seeger
The acoustic music world lost a giant a few years ago with the passing of Pete Seeger. Read Ken's eulogy and his two-part interview of Pete from September and October 2000 on the Banjo Newsletter website:
Some new honors
Ken was awarded a Masters' Showcase at the 2017 Appalachian String Band Festival, popularly known as "Clifftop".  According to organizer Bobby Taylor, these Masters' events are set up to "showcase the legends who have dedicated their lives to the preservation and presentation of old-time music."
Ken has a selection featured on a new anthology called Classic Banjo from Smithsonian Folkways. Since the CD also features the likes of Pete Seeger, Mike Seeger, Hobart Smith, Wade Ward, Dock Boggs, Rufus Crisp, and Roscoe Holcomb (not to mention such contemporary bluegrass wizards as Bill Keith and Tony Trischka) this is quite an honor.
Ken's book, Advanced Fingerstyle Guitar, was included in a book by Shawn Persinger called The 50 Greatest Guitar Books (Quixotic Music Co.).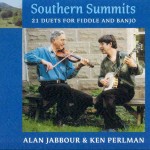 Southern Summits: 21 Duets for Fiddle & Banjo is a joint project with fiddler Alan Jabbour. Alan and I started playing together in Y2K while both were on staff at the Rocky Mountain Fiddle Camp in Colorado, and that eventually led to a quite a number of joint concerts, tours and this recording project. This CD accentuates the lyrical and whimsical nature of Southern fiddle tunes through the elaboration of the fiddle-banjo duet. The repertoire is drawn primarily from Alan's collecting work with West Virginia fiddler Henry Reed and Reed's contemporaries. Along with the usual complement of hoedowns and fiddle-rags, it also includes waltzes, marches, schottisches and quicksteps. I see my own role in the recording as the culmination of a lifetime of playing with fiddlers from a variety of traditions. Sometimes the banjo plays "traditional" back-up, sometimes full or partial melody, sometimes close harmony, sometimes counter melody, sometimes piano-style bass lines, and on and on. We hope you enjoy listening to these arrangements as much as we enjoyed putting them together. To order, visit our CDs page.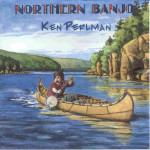 Ken's crystal clear clawhammer ably supported by some great "north country" musicians on guitar, bass, fiddle, viola, mandolin, uilleann pipes, flute, whistle, bouzouki and percussion, PLUS three of Ken's patented fingerstyle guitar solos. For description, contents and to hear some sample excerpts click the CD cover or title above. The project includes an eight page annotated booklet with notes on all the tunes, banjo and fiddle tunings, and more.
To order, visit our CDs page.
Review Excerpts, Northern Banjo; Complete Reviews for Northern Banjo
Ken's latest banjo instruction book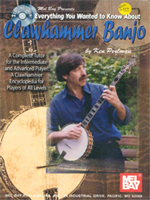 Ken's newest book is entitled Everything You Wanted to Know About Clawhammer Banjo. "Everything You Wanted to Know" is based on over twenty years of his columns in Banjo Newsletter and includes – along with a considerable amount of instruction and observations about the style – about 120 tunes, along with numerous exercises and musical examples. The chapters are organized as follows: basic techniques; advanced and experimental techniques; how to approach various kinds of fiddle tunes; how to approach various other musical genres; how to deal with accompaniment and backup; tunings; setup; banjo and old time music history, etc. All tunes are illustrated on two companion CDs. The price is $29.95, plus shipping. To order, visit our Banjo Instruction page.
Celtic & New England Tunes for Clawhammer Banjo is the new name for one of Ken's early instruction books
This book of 30+ tunes was first published in 1979 under the title "New England & Irish Tunes for Clawhammer Banjo." It was distributed by Mel Bay for many years as "Basic Clawhammer Banjo." It includes a CD that illustrates all the tunes. To order, visit our Banjo Instruction page
Back in Print: Ken's classic Melodic Clawhammer Banjo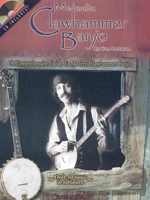 This inspirational, highly influential book features about 55 tunes in clear tablature, all illustrated on its new companion CD. Also includes instruction, exercises, musical examples, historical notes, technical illustrations and period photos. Price: $19.95 To order, visit our Banjo Instruction page.
Ken is now available for lessons and workshops via the Internet/Skype
Contact him via phone or his normal email address ken@kenperlman.com.
High praises for Ken's solo CD, Northern Banjo
Sing Out!

Ken's playing is without peer. The smoothness and clarity of attack with which he presents these highly complex and ornamented tunes is simply magnificent. The arrangements, featuring expert backing while always placing the banjo out front, are wonderful.
Banjo Newsletter

On first listening to Ken Perlman's exquisite new recording, Northern Banjo, I was struck by the fact that no one on the earth could have created this recording except him. It is a tour de force bringing together Ken's exquisite melodic technique on the banjo, along with his tireless decade-long research into the music of Prince Edward Island.
Old Time Herald

Northern Banjo is a richly woven tapestry… Perlman showers the tunes with notes that are thrown off his banjo as brilliantly as sparks from a fire-works sparkler. Northern Banjo is an album that anyone who loves old fiddle tunes, fine banjo playing, or just good music should thoroughly enjoy.
Accoustica

Impeccable clarity. Every note is brilliant… these tunes, executed in meticulous manner, will captivate and demand your utmost respect for the skill level required. Most Excellent. Bluegrass Unlimited Mr. Perlman has done an exquisite job of taking the banjo where no one has gone before.
Canadian Folk Music Bulletin

Here is a recording that has full marks for presentation of instrumental ensemble music. .. this 53- minute CD is a masterpiece… Perlman's respect for the fiddle traditions of Atlantic Canada should not go unnoticed, nor should his particular field work in PEI. All of this shines through on the recording… this work has delightful power!
Netrhythms.com

Ken's individual, powerful and greatly musical playing is distinguished by gently crafted, expertly moulded and naturally flowing melodic lines rather than being a mere showcase for breakneck showy picking. Every track's a delight… it all adds up to a joyous and refreshingly different instrumental release that's highly recommendable
Contact Information
Street Address: 307 Bellevue St., Boston MA, 02132 Home Phone: 617 553-8018 Cell Phone: 781 316-5564 Email: ken@kenperlman.comoim