Ken Perlman's Home Page
Superb instrumentalist, acclaimed teacher of instrumental skills, gifted performer, award-winning folklorist, Ken Perlman is surely a welcome addition to any festival or concert-series lineup. Ken is both a pioneer of the 5-string banjo style known as "melodic clawhammer" and a master of fingerstyle guitar. He is considered one of the top clawhammer players in the world, known in particular for his skillful adaptations of Celtic tunes to the style. On guitar, Ken's sparkling finger-picked renditions of traditional Celtic and Southern fiddle tunes are simply not to be missed. Click for more about Ken.
Current Events & Announcements
Concerto for Banjo and Orchestra
Several years ago, noted contemporary composer Harold Schiffman wrote a concerto in three movements for clawhammer banjo and orchestra. Mr. Schiffman wrote the piece with Ken in mind to play it, and Ken debuted the work in New York City this past February with an ensemble known as the North/South Consonance under conductor Max Lifschitz. The location was Christ & St. Stephen's Church on West 69th Street between Broadway and Columbus. According to the composer, "the three-movement Banjo Concerto is cast in a traditional fast-slow-fast pattern. Inspired by Appalachian's melodies, the work's musical language recalls Baroque-era lute music while offering the soloist ample opportunity for technical display."
Attending rehearsals for the event proved to be quite an adventure for Ken, coinciding with a major snow storm that hit the region (the one where the new mayor elected NOT to let the kids stay home from school). Despite those various other weather related challenges, the concert itself was well attended and warmly received. The open-back banjo held its own as a non-amplified solo instrument in a classical ensemble, without doubt! A lot of people happily described the piece as "charming," which it was!!
New Book on Prince Edward Island Fiddling
Ken's recently completed book based on oral histories collected from scores of traditional fiddlers and others from PEI will be published by the University of Tennessee Press as the inaugural volume in its Charles Wolfe Series (Wolfe was a noted and much beloved folklorist who wrote about fiddling in the mid- and upper-South). The title is "Couldn't Have a Wedding Without the Fiddler: the Story of Traditional Fiddling on Prince Edward Island." The publication process is progressing steadily; the book has traversed the copy-editing stage of production and publication is still scheduled for 2014.
PEI Fiddling Website Back on Track!!
There is great news to impart re the PEI Traditional Fiddling website (known as "Bowing Down Home"). It now has a new home where it truly belongs, namely the Robertson Library at the University of Prince Edward Island in Charlottetown. I will be traveling to PEI a few times in the near future to assist in moving the project forward. No specific dates have set for launch but watch this newsletter or my website for further information. The following URL has been reserved for the site: "www.bowingdownhome.ca."
Tribute to Pete Seeger
The acoustic music world just lost a giant with the passing of Pete Seeger. Read Ken's recent eulogy and his two-part interview of Pete from September and October 2000 on the Banjo Newsletter website:
Ken taught clawhammer at the inaugural Winter Music Camp in Kansas City
The Folk Alliance inaugurated an instructional camp this past February at its new home in Kansas City, and among its inaugural set of instructors were fiddler Alan Jabbour and myself. There were some growing pains, but plans are in the works to continue this project next year.
Academic paper presentation
Ken presented a paper this year at the American Folklore Society Conference in Providence, RI. The topic was "I'd Get the Tune into Me Head: Oral Music Learning Among Traditional Fiddlers on Prince Edward Island."
Some new honors
Ken has a selection featured on a new anthology called Classic Banjo from Smithsonian Folkways. Since the CD also features the likes of Pete Seeger, Mike Seeger, Hobart Smith, Wade Ward, Dock Boggs, Rufus Crisp, and Roscoe Holcomb (not to mention such contemporary bluegrass wizards as Bill Keith and Tony Trischka) this is quite an honor.
Ken's book, Advanced Fingerstyle Guitar, was included recently in a book by Shawn Persinger called The 50 Greatest Guitar Books (Quixotic Music Co.).
Midwest Banjo Camp 2013 hits high water mark
With 285 students and other registrants, the Midwest Banjo Camp had its biggest year ever. Still, with some good advance planning from fellow director Stan Werbin and myself, class sizes were manageable, and logistics were seamless. We had some fantastic jams and concerts and from what we could see, a great time was had by all. For more on MBC, visit www.midwestbanjocamp.com.
Southern Summits is Ken's latest recording project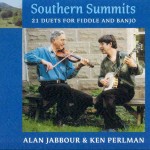 Southern Summits: 21 Duets for Fiddle & Banjo is a joint project with fiddler Alan Jabbour. Alan and I started playing together in Y2K while both were on staff at the Rocky Mountain Fiddle Camp in Colorado, and that eventually led to a quite a number of joint concerts, tours and this recording project. This CD accentuates the lyrical and whimsical nature of Southern fiddle tunes through the elaboration of the fiddle-banjo duet. The repertoire is drawn primarily from Alan's collecting work with West Virginia fiddler Henry Reed and Reed's contemporaries. Along with the usual complement of hoedowns and fiddle-rags, it also includes waltzes, marches, schottisches and quicksteps.
I see my own role in the recording as the culmination of a lifetime of playing with fiddlers from a variety of traditions. Sometimes the banjo plays "traditional" back-up, sometimes full or partial melody, sometimes close harmony, sometimes counter melody, sometimes piano-style bass lines, and on and on. We hope you enjoy listening to these arrangements as much as we enjoyed putting them together. To order, visit our CDs page.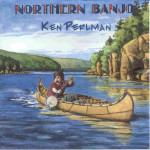 Ken's crystal clear clawhammer ably supported by some great "north country" musicians on guitar, bass, fiddle, viola, mandolin, uilleann pipes, flute, whistle, bouzouki and percussion, PLUS three of Ken's patented fingerstyle guitar solos. For description, contents and to hear some sample excerpts click the CD cover or title above. The project includes an eight page annotated booklet with notes on all the tunes, banjo and fiddle tunings, and more.
To order, visit our CDs page.
Review Excerpts, Northern Banjo; Complete Reviews for Northern Banjo
Ken's newest banjo instruction book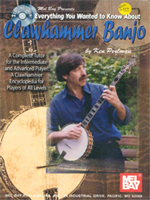 Ken's newest book is entitled Everything You Wanted to Know About Clawhammer Banjo. "Everything You Wanted to Know" is based on over twenty years of his columns in Banjo Newsletter and includes – along with a considerable amount of instruction and observations about the style – about 120 tunes, along with numerous exercises and musical examples.
The chapters are organized as follows: basic techniques; advanced and experimental techniques; how to approach various kinds of fiddle tunes; how to approach various other musical genres; how to deal with accompaniment and backup; tunings; setup; banjo and old time music history, etc. All tunes are illustrated on two companion CDs. The price is $29.95, plus shipping. To order, visit our Banjo Instruction page.
Celtic & New England Tunes for Clawhammer Banjo is the new name for one of Ken's early instruction books
This book of 30+ tunes was first published in 1979 under the title "New England & Irish Tunes for Clawhammer Banjo." It was distributed by Mel Bay for many years as "Basic Clawhammer Banjo." It includes a CD that illustrates all the tunes. To order, visit our Banjo Instruction page
Back in Print: Ken's classic Melodic Clawhammer Banjo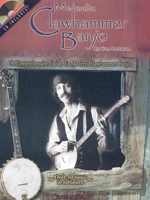 This inspirational, highly influential book features about 55 tunes in clear tablature, all illustrated on its new companion CD. Also includes instruction, exercises, musical examples, historical notes, technical illustrations and period photos.
Price: $19.95
To order, visit our Banjo Instruction page.
Ken is now available for lessons and workshops via the Internet/Skype
Contact him via phone or his normal email address ken@kenperlman.com.
High praises for Ken's latest solo CD, Northern Banjo
Sing Out!

Ken's playing is without peer. The smoothness and clarity of attack with which he presents these highly complex and ornamented tunes is simply magnificent. The arrangements, featuring expert backing while always placing the banjo out front, are wonderful.
Banjo Newsletter

On first listening to Ken Perlman's exquisite new recording, Northern Banjo, I was struck by the fact that no one on the earth could have created this recording except him. It is a tour de force bringing together Ken's exquisite melodic technique on the banjo, along with his tireless decade-long research into the music of Prince Edward Island.
Old Time Herald

Northern Banjo is a richly woven tapestry… Perlman showers the tunes with notes that are thrown off his banjo as brilliantly as sparks from a fire-works sparkler. Northern Banjo is an album that anyone who loves old fiddle tunes, fine banjo playing, or just good music should thoroughly enjoy.
Accoustica

Impeccable clarity. Every note is brilliant… these tunes, executed in meticulous manner, will captivate and demand your utmost respect for the skill level required. Most Excellent. Bluegrass Unlimited Mr. Perlman has done an exquisite job of taking the banjo where no one has gone before.
Canadian Folk Music Bulletin

Here is a recording that has full marks for presentation of instrumental ensemble music. .. this 53- minute CD is a masterpiece… Perlman's respect for the fiddle traditions of Atlantic Canada should not go unnoticed, nor should his particular field work in PEI. All of this shines through on the recording… this work has delightful power!
Netrhythms.com

Ken's individual, powerful and greatly musical playing is distinguished by gently crafted, expertly moulded and naturally flowing melodic lines rather than being a mere showcase for breakneck showy picking. Every track's a delight… it all adds up to a joyous and refreshingly different instrumental release that's highly recommendable
Moved Again!! Here's My New Contact Information
Street Address: 307 Bellevue St., Boston MA, 02132
Home Phone: 617 553-8018
Cell Phone: 781 316-5564
Email: ken@kenperlman.com