Press Kit
Ken Perlman Capsule Bio
buy modafinil next day delivery thereby Ken Perlman is a pioneer of the 5-string banjo style known as melodic clawhammer; he is considered one of the top clawhammer players in the world, known in particular for his skillful adaptations of Celtic, Appalachian, & Canadian fiddle tunes to the style. He has toured throughout most of the English-speaking world and in Western-Europe, both as a soloist and – for over fifteen years – in a duo with renowned Appalachian-style fiddler Alan Jabbour.
An acclaimed teacher of folk-music instrumental skills, Ken has written some of the most widely respected banjo and guitar instruction books of modern times, he has been on staff at prestigious teaching festivals around the world, and he has also served as director for several music-instructional "camps," including American Banjo Camp, Midwest Banjo Camp, and Suwannee Banjo Camp. Also an independent folklorist, Ken spent close to two decades collecting tunes and oral histories from traditional fiddle players on Prince Edward Island in Eastern Canada, resulting in three major works: a collection of over 400 tunes called The Fiddle Music of Prince Edward Island, an oral-history based work called  Couldn't Have a Wedding Without the Fiddler: The Story of Traditional Fiddling on Prince Edward Island, and a website devoted to traditional Prince Edward Island fiddling called Bowing Down Home (bowingdownhome.ca), which is jointly sponsored by the University of PEI and the Canadian Museum of History.
Ken's recordings with fiddler Alan Jabbour are Southern Summits and You Can't Beat the Classics; his solo recordings are Frails & Frolics, Northern Banjo, Island Boy, Devil in the Kitchen, Live in the U.K. and Clawhammer Banjo & Fingerstyle Guitar Solos. His banjo books include Clawhammer Style Banjo, Melodic Clawhammer Banjo, and Everything You Wanted to Know About Clawhammer Banjo.
Ken has been tapped multiple times to judge the old-time banjo contest at the Appalachian String Band Festival (better known as "Clifftop"). In 2017, Ken was accorded a Masters' Workshop at Clifftop, an event set up to "showcase the legends who have dedicated their lives to the preservation and presentation of old-time music."
Suggested Youtube Clips
Publicity Photo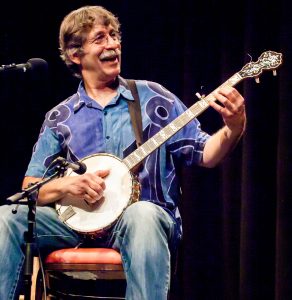 Music Samples
Click for excerpts from some of Ken's recordings.