You Can't Beat The Classics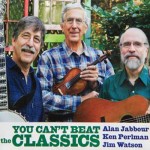 You Can't Beat the Classics
is a CD collection of 22 distinctive settings of old-time music classics and rarities from Appalachia and beyond. It is performed by three artists: Alan Jabbour on fiddle, Ken Perlman on clawhammer banjo, and Jim Watson (a founding member of the Red Clay Ramblers) on guitar and vocals. Alan says, "Classic tunes are inherently worthwhile musically, or they would not have become classics. Fresh versions might stir up renewed interest, and we hope that the musicality of our settings stirs fresh enthusiasm for these grand old tunes.
For good measure, we've also included a number of wonderful tunes never released before. We hope our threesome brings a fresh sound to this posy of classics and rarities."
Most of these tunes and versions were collected from Henry Reed of Glen Lyn, Virginia; other sources include Burl Hammons, Doc White, Snake Chapman, and John R. Griffin. The CD comes with a 16pp. booklet by Alan with information on the project and the tunes.
You Can't Beat the Classics

Ken Perlman teamed up with noted Appalachian style fiddler Alan Jabbour and guitarist/vocalist Jim Watson, a founding member of the former Red Clay Ramblers. Features some intriguing new versions of common old-time tunes, along with several great tunes that have rarely if ever been recorded. This was Alan's very last recording. 22 cuts in all.

15.00

 
Playlist
Sources in Parentheses
Rye Straw (Henry Reed)
Ragged Bill (Henry Reed)
Fire on the Mountain / Christmas Morning (Henry Reed)
Dixie Doodle
Grover Jones's Waltz (Henry Reed)
Old Joe Clark (Henry Reed)
Love Somebody / Shoo Fly (Henry Reed)
Henry Reed's Schottische (Henry Reed)
Rocky Road to Dublin (Burl Hammons)
Turkey in the Straw (Henry Reed)
When You and I Were Young, Maggie
New Castle, or Texas (Henry Reed)
Mississippi Sawyer
Red Fox (Henry Reed)
Newcastle (Iain Bain)
Casey Jones
Sally Ann / John R. Griffin's Tune (Snake Chapman / John R. Griffin)
Hell among the Yearlings (Henry Reed / Doc White)
The Old Churchyard (Sanford Kelly)