Biography
Meet Ken Perlman
Wetteren "The Heifetz of the Banjo" –The Chronicle Herald (Halifax, Nova Scotia)
Superb instrumentalist, acclaimed teacher of instrumental skills, gifted performer, award-winning folklorist, Carei Ken Perlman is surely a welcome addition to any festival or concert-series lineup. particular for his skillful adaptations of Celtic, Appalachian, & Canadian fiddle tunes to the style. Ken is both a pioneer of the 5-string banjo style known as "melodic clawhammer" and a master of fingerstyle guitar. He is considered one of the top clawhammer players in the world, known in particular for his skillful adaptations of Celtic tunes to the style. On guitar, Ken's sparkling finger-picked renditions of traditional Celtic and Southern fiddle tunes are simply not to be missed. He has toured throughout most of the English-speaking world and in Western-Europe, both as a soloist and – for over fifteen years – in a duo with renowned Appalachian-style fiddler Alan Jabbour.
He draws his material from traditional sources – the music of Scotland, Ireland, Cape Breton, Prince Edward Island and the American South. His approach to the music, however, is highly innovative. He has developed many new instrumental techniques, and much of his repertoire has never before been played on 5-string banjo or guitar.
Around the folk scene, Ken is often referred to as a musician's musician – a player whose style is so accomplished and unique that other musicians go out of their way just to hear him.
Ken is an acclaimed teacher of folk-music instrumental skills. He has written some of the most widely respected banjo and guitar instruction books of modern times, and he has been on staff at prestigious teaching festivals around the world. He has also served as director, or co-director for several banjo for several music-instructional camps; he currently is sole director of Suwannee Banjo Camp, and co-director of Midwest Banjo Camp and American Banjo Camp.
An active folklorist, Ken has spent over two decades collecting tunes and oral histories from traditional fiddle players on Prince Edward Island in eastern Canada. The first outgrowths of his research were a tune book called The Fiddle Music of Prince Edward Island and a two-CD anthology of field recordings called The Prince Edward Island Style of Fiddling (Rounder Records). In 1997 and '98, each of these works received awards from the Prince Edward Island Heritage Foundation for helping to "preserve, interpret, and disseminate our province's fiddling heritage." In 2015, his "ethnography" (oral history based book) called Couldn't Have a Wedding Without the Fiddler: the Story of Traditional Fiddling on Prince Edward Island was published by University of Tennessee Press. He is also curator of a new website devoted to traditional PEI fiddling called bowingdownhome.ca, which is based on his writing and field recordings and hosted jointly by the University of PEI and the Canadian Museum of History.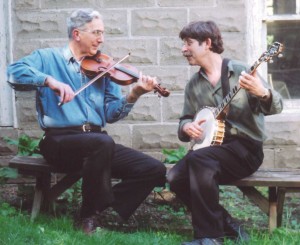 He has many recordings to his credit including:
In Performance
Ken has been performing on the acoustic music circuit since the late 1970s. He has played countless folk clubs and coffee houses, dozens of festivals, and scores of other venues such as schools and colleges, pubs, libraries, historical societies, and cafe's. He has toured across North America, Great Britain, Ireland, Western Europe and Australia.
Ken's performances focus on his instrumental wizardry. Most of his material consists of traditional Celtic and Southern U.S. dance tunes (often known as fiddle tunes), which he has arranged for his own instruments, 5-string banjo and guitar. Of special interest: the tunes he has collected himself from traditional fiddle players on Prince Edward Island.
Within a few minutes it was obvious we were being entertained by a remarkably skilled musician. The richness and delicacy of his playing complimented by his interesting selections of tunes, made it a wonderful evening of music. (Australian Folk Reviews)
Perlman made the difficult look simple for an audience of about 100 people that sat transfixed at his concert… He alternated on the banjo and guitar, performing new songs along with ones that were old before Cleveland got its name. He communicated the feelings [of the music]… with nothing more than his fingers dancing on the strings. (Cleveland Plain Dealer)
Although Ken's focus is on instrumentals, he does not ignore the vocal element. In a typical show, he sings a variety of numbers drawn from such traditions as acoustic blues, ragtime, ballads, minstrel show music, and Southern string band music. He also tells stories, offers accounts of his music-collecting experiences, and makes wry comments on our lives and times. As noted by the Plain Dealer, "his songs were witty, amiable and engaging."
Check out some additional concert reviews

"Melodic" Clawhammer Master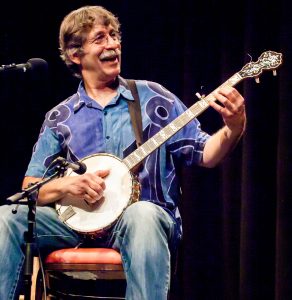 Ken is internationally known as a pioneer of a banjo style known as melodic clawhammer. This new approach has transformed clawhammer (also known as "frailing") from an accompaniment to a solo style of banjo playing.
Frets Magazine calls Ken a "clawhammer master"
Banjo Newsletter notes "Ken is the undisputed king of the melodic clawhammer banjo style"
Fiddler Magazine calls him "one of America's great melodic clawhammer banjo players."
The Glasgow (UK) Herald said, "He can make his instrument do more or less anything he wants it to."
Some other comments:
Ken Perlman is a master banjo player. A long time ago, he looked at the banjo and the perceived limitations of the instrument and proceeded to take clawhammer banjo to places no one else has gone with as much success.If you think you know clawhammer banjo and it all sounds the same, think again. (Bluegrass Unlimited)
His Island Boy CD is full of the most intricate and deftly played arrangements… Ken takes the banjo far beyond the role of the thinking man's rhythm instrument… and explores the furthest reaches of melodic clawhammer playing." (Old Time News)
It's difficult to know where to start with this review because Ken Perlman plays an astonishing selection of tunes which any self-respecting clawhammer player knows are impossible to play on the banjo. That is to say, Perlman is obviously a wizard, using spells and incantations to conjure up these tunes which are too difficult for the average player to contemplate and yet he dashes them off with verve, joie de vivre and above all, great musicality. (BMG – BanjoMandolinGuitar)
The appearance of a new CD by Ken Perlman is inevitably an important event in the banjo universe. . . The vast majority of 5-string players couldn't begin to handle this challenging repertoire. Consequently, it's amazing that Ken, wielding a 5-string in clawhammer style, can absolutely nail all those scales, arpeggios, trills, intricate phrases, and challenging dance rhythms… And Ken has given us an object lesson in the tremendous versatility and agility of the clawhammer style. I strongly recommend this album for clawhammer players and fans of Celtic dance music. (Banjo Newsletter)
Listening to Ken Perlman fly through a set of dance tunes provides a masterclass on the melodic possibilities not often explored on the five-string banjo. Perlman's tune selection and execution are impeccable, [and] each listen seems to illicit new surprises. Perlman's masterful banjo picking never ceases to amaze. (Glory Beaming Banjo Blog)
Master Fingerstyle Guitarist
Ken's significant contribution to acoustic guitar styles should not be overlooked. He is adept at old-time blues, ragtime and just plain folk. His specialty is Celtic and Southern U.S. fiddle tunes arranged for fingerpicking. These tunes are played with a sparkling attack and active bass line, which gives them a sound that has been described as being reminiscent of Renaissance- and Baroque-era lute music. We are treated to first class finger-picking of a highly complex and expressive nature. His stately technique on a steel string guitar possesses a strong drive and full delivery. (Bluegrass Unlimited)
Teacher and Writer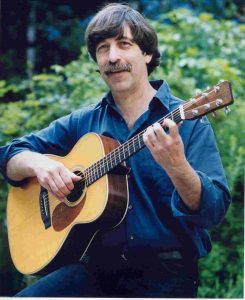 The high quality of his books, articles, taped series and other instructional materials has brought Ken an international reputation as a gifted teacher of folk instrumental styles. This reputation has been reinforced by his many instructional columns and articles that have appeared over the years in such major acoustic-music periodicals as Banjo Newsletter, Sing Out!, Acoustic Guitar and Acoustic Musician. He has recently added a venerable British periodical called BanjoMandolinGuitar to the list.
Ken's instructional books for banjo include:
His guitar "tutors" include:
Recorded Instruction
Ken has made two stand alone banjo instructional videos plus companion videos for Fingerstyle Guitar and Clawhammer Style Banjo (these are all available in DVD format from Centerstream Music/Hal Leonard). In addition, he created a downloadable audio-instruction series for Homespun Tapes entitled Clawhammer Banjo: from Basic Frailing to Melodic Style. From the Homespun Tapes website…
This complete course by one of America's best-known players and teachers takes you from the most basic banjo skills through complex melodic clawhammer style. Ken Perlman breaks down more than 40 great tunes, including old-time banjo songs, fiddle tunes and Irish and New England dances to provide you with a rich repertoire and months of exciting study.

The pieces you'll be learning include Mole In The Ground, Groundhog, Girl I Left Behind, Grandfather's Clock, Foggy Dew, Sherman's March, Cherokee Shuffle, Cluck Old Hen, Sally In The Garden, Yellow Rose Of Texas, Old Molly Hare, Sandy River Belle, Magpie, Golden Slippers, Arkansas Traveler, June Apple, Other Side Of Jordan, Richmond Cotillion, Rickett's Hornpipe, O'Carolan's Concerto and many more!

Review:

"…one of the most creative practitioners of this art. He has stretched the boundaries of what can be done on the clawhammer banjo. His…techniques open up a new world to the clawhammer banjoist." — Bluegrass Unlimited