Clawhammer Banjo & Fingerstyle Guitar Solos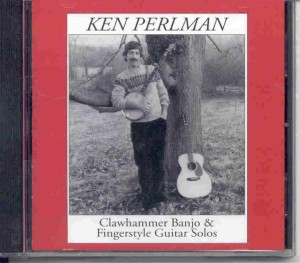 Originally one of the last Folkways LPs to be produced under the legendary Moe Asch, this is the recording that launched Ken's career. It represents Ken's far flung musical interests at the time, ranging from American fiddle classics like "Beaumont Rag" and "Leather Britches," to Québecois tunes like "St. Anne's Reel" and "La Renfleuse Gorbeil," to Irish jigs and reels like "Blarney Pilgrim" and "Nine Points of Roguery," to O'Carolan harp compositions like "Planxty Lord Inchiquin" and "O'Carolan's Welcome." The cuts are about evenly split between banjo tracks (accompanied by ace guitarist Bob Jones) and guitar solos.
Note: the original LP had a banjo side and a guitar side. When it was remastered, the track order was changed to make the project more CD friendly. One other curious note: Ken originally intended the title of the recording to be Ken Perlman: Clawhammer Banjo & Fingerstyle Guitar Solos; but somehow signals got crossed early on, and ever since the recording has been referred to by its intended subtitle.
Clawhammer Banjo & Fingerstyle Guitar Solos

Folkways

Ken's first album, originally an LP with side A featuring American and Irish tunes on clawhammer banjo and side B featuring Irish tunes on fingerstyle guitar. Now a digitally re-mastered CD with revised order (there no longer is a "Side A" or "B"), and with revised and updated liner notes!

Almost all the arrangements on this recording have by now appeared in one of Ken's guitar or banjo instruction books. (Cassette no longer available).

 
Playlist
Beaumont Rag – banjo
St.Anne's Reel / La Renfleuse Gorbeil – banjo
The Humours of Ballylaughlin – guitar
Don Tremain's Reel – guitar
The Humours of Castle Comer / Blarney Pilgrim – banjo
Leather Britches – banjo
O'Carolyn's Welcome – guitar
Taylor's Twist – guitar
Golden Keyboard / Nine Point of Roguery – banjo
The Return from Fingal – guitar
Madame Bonaparte – guitar
Planxty Lord Inchiquin – guitar
Johnny Cope – banjo
Swingin on a Gate – guitar
Reviews for  image source Clawhammer Banjo & Fingerstyle Guitar Solos (Folkways)
Sing Out!
When Ken Perlman plays, his instruments take on other aspects. On "O'Carolan's Welcome," for example, Perlman's guitar takes on the intonation of a harp. He doesn't burst out of the traditions of old-time clawhammer banjo and blues guitar, but he has added new dimensions to both styles. On both instruments he takes Celtic dance tunes and weaves their melodies with almost classical attention. His arrangements are precise and deliberate, but never predictable. In fact, Perlman's subtle nuances are played with such clarity that each listen brings revelations. This album's…design is to celebrate the melodies and intricacies of these songs. And to that end, Perlman has succeeded splendidly.
Frets Magazine
For frailing fans clawhammer master Ken Perlman has released Clawhammer Banjo & Fingerstyle Guitar Solos…Admirers of left hand legerdemain will want to study some of the maneuvers Perlman manages with his fretting fingers.
Bluegrass Unlimited
One problem in "melodic" playing in both the bluegrass and clawhammer styles is that … the tunes can lose some of their rhythmic punch. There's not much problem with that here… On the side of the album devoted to banjo, "Beaumont Rag" and "St. Anne's Reel" come off particularly well. The second side, [which] consists of mostly Irish tunes played fingerstyle on guitar [is] very pretty."