Ken Perlman: Live In The UK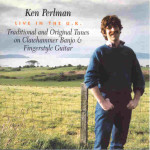 Traditional and Original Tunes of Clawhammer Banjo and Fingerstyle Guitar
In May 1987, renowned clawhammer banjo and fingerstyle guitar player purchase ivermectin Ken Perlman landed in Manchester ready to embark on his first tour of the U.K. Ken's first couple of performances — in the nearby cities of Macclesfield and Northwich — were taped, and excerpts were later released as a cassette by Halshaw Music Company. This CD contains digitally re-mastered versions of all the tunes from the original cassette, plus a few previously unreleased selections. Most of the banjo solos have also been enhanced by the addition of expert flatpick-guitar accompaniment by John Rossbach.
Ken Perlman: Live In The U.K.

Halshaw Music

Recorded in the late '80s, this is an eclectic collection featuring American, English, Scottish and original tunes, along with several accompanied vocals. Now a CD with guitar accompaniment on the banjo instrumentals by http://mountaintopcampground.com/ozark-cabin-reservation/dsc_0941/.git/HEAD John Rossbach.

Companion Tab Book

Banjo tab for every tune on the CD

15.00

CD ONLY

10.00

TAB BOOK
Playlist
All selections not otherwise noted are banjo instrumentals.
Road to Mexico by Ken Perlman (formerly called "Tequila Mockingbird")
Rock the Cradle, Joe
Loons on the Pond by Ken Perlman
The Mornin' Blues (guitar + vocal)
The Rights of Man (guitar instrumental
Shenandoah Falls
Sullivan's Breakdown by Ken Perlman
The Barnyard Dance (guitar + vocal)
Fanny Powers (guitar instrumental)
Don't Let Your Deal Go Down (banjo + vocal)
Come Ye By Newcastle/Holmes' Fancy
Colored Aristocracy
The Left All Alone Again Blues (guitar + vocal)
Avalon Quickstep/Julie-Anne Johnson
Reuben's Train (banjo + vocal)
Sandy River Belle
Speed the Plow/Prince William
Ken Talks About The Recording…
Looked at in context, Live in the UK represents what amounts to a "middle period" of my musical path. My first LP (Clawhammer Banjo & Fingerstyle Guitar Solos on Folkways Records) was pretty much an outgrowth of my fascination with Irish Music, and my later CDs (Devil in the Kitchen on the Marimac label and Island Boy on the Wizmak label) resulted from a deep involvement with the music of Scotland, Cape Breton and Prince Edward Island. When Live in the UK was made, on the other hand, my interests lay in expanding the boundaries of clawhammer and dragging out of the style every last lick it was capable of. Part of this involved creating a method to play complex breaks and "variations."
Another aspect was composing tunes specifically for "melodic" clawhammer that made use of the style's unique potentialities. Because it was the only commercial recording that was made during this "middle" period of my playing, I decided to breathe new life into it by using some modern recording-studio sleight of hand.
The original recordings were played into a multi-track digital tape recorder, and enhanced by the sound engineer. Then I asked guitarist John Rossbach of Syracuse, New York — a very highly talented bluegrass and "old-time" player — to "overdub" accompaniment on most of the solo banjo tracks. This helped smooth out many of the recording-imperfections from the original cassette. Hope you enjoy the result!