Island Boy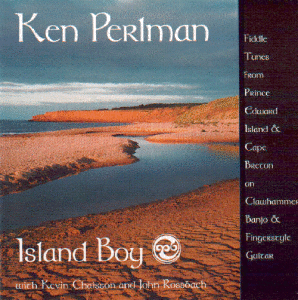 Fiddle Tunes from Prince Edward Island and Cape Breton Clawhammer Banjo and Fingerstyle Guitar
This recording features Celtic and Acadian tunes from Prince Edward Island and Cape Breton in the Canadian Maritimes. Ken spent several years collecting music from traditional fiddlers in that region and absorbed much of their style in the process.
The clawhammer banjo cuts — which feature Cape Breton style piano accompaniment by Kevin Chaisson of Prince Edward Island, and solid guitar accompaniment by John Rossback of Syracuse, NY — are spirited and lively, successfully capturing the flavor of Canadian Maritimes old-time fiddling, which has a kind of rhythm and drive not unlike American "old-timey" fiddling.
The three guitar cuts feature Ken's sparkling approach to fingerstyle.
Audio Samples
The Brae Reel/The Miramichi Fire

Upper Denton Hornpipe/Fiddlin' Phil

Playlist
Lord MacDonald's Reel/The Princess Reel
Miss Maxwell/Miss Gordon/Robert Stubbert
The Brae Reel/The Miramichi Fire
Belfast Jig/Inverness Jig/Bear River Jig
Glenfiddich Strathspey/Homeward Bound [Guitar Solo]
Northside Tune/Over the Briny Ocean
Captain Campbell/The Cape Breton Wedding Reel/Andrew Renwick's Ferret (G. Lincoln)
Upper Denton Hornpipe/Fiddlin' Phil
Niel Gow'sFiddle/Scourdiness (C. Sherritt) [Guitar Solo]
The Duke of Gordon's Birthday/The Dragger's Reel (E.Arsenault)/The Green Meadow Reel/Paddy on the Turnpike
Irishman's Heart to the Ladies/Riverbend Jig (D.R. MacDonald)
Rothiemurchus Rant/The Bonny Lass of Fisherrow/Koehler's Hornpipe
Joe Kearney's Reel/Darlin' Don't You Meddle Me/Fermoy Lasses
Space Available (M. Doucet)/The Dismissal/Dublin Porter
Bishop MacDonald/Glengarry's Dirk/The Bird's Nest [Guitar Solo]
Island Boy/St. Anne's Reel
Reviews for Island Boy 
(Wizmak Recordings)
Sing Out!
Perlman set about the task of adapting his traditional clawhammer style to capture what he terms the "distinctive kick and drive" of [Prince Edward} Island music… Island Boy is the recorded result of this experiment, a collection of reels, strathspeys, hornpipes, jigs and more done in a distinctive melodic banjo style that brings to mind favorable comparisons to the playing of Tony Ellis and the late Carroll Best. With piano backup from Islander Kevin Chaisson and guitar backup by John Rossbach, this is banjo music with a unique twist that makes for good listening…This is an album with an appeal that should reach across many of the boundaries of the folk music world.
The Old Time News (Friends of American Music & Dance, U.K.)
The CD is full of the most intricate and deftly played arrangements…Those of you who [are] familiar with Ken's work from his excellent tutor books … will know that Ken takes the banjo far beyond the role of the thinking man's rhythm instrument…and explores the furthest reaches of melodic clawhammer playing… This album is an absolute must as it will provide you with a superb selection of new material…Ken's enthusiastic and scholarly approach to the project makes the overall effect most rewarding.
Flagstaff Live! (Arizona: by Michael Morales)
Deep within the depths of the sea lies a single oyster, capable of forming a gem precious to the hearts of so many people. There exists a similar creator of gems in Ken Perlman, whose illustrious career has focused on playing, teaching and reviving traditional forms of folk music.

In his most recent recording, Island Boy, Perlman offers a compelling string of Irish and Celtic interpretations. His mastery of clawhammer banjo and fingerstyle guitar shines through each cut with remarkable precision and clarity. An accomplished folklorist, musician and teacher, Perlman combines his talents to provide a complete package of expertise…He is at his best when demonstrating his command of the fret board. Using the banjo as his voice, he conveys the feel of deeply rooted musical styles with effortless fluidity….

The addition of local pianist Kevin Chaisson and John Rossbach on acoustic guitar provides an authentic backdrop to Perlman's streaming banjo. The trio delivers a lively collection of traditional fiddle tunes played without a single fiddle. Although there are no fretted instruments traditionally used in this style, Perlman adapts his clawhammer technique to incorporate the banjo as seamless accompaniment to the island sound… Perlman's innovative approach and diligent study of this musical genre has become vital to the preservation of Prince Edward Islands musical heritage.
Crossroads (by Sharon Goldwassar)
Not far from the dance floor: Ken Perlman's exploration of the musical legacy of Prince Edward Island (P.E.I.) comes to life through his distinctive melodic banjo playing and fingerstyle guitar. Perlman's clean, solo playing lets the tunes speak for themselves in a voice that mingles the Scottish. Irish and Acadian-French heritage of the island. Ken's respectful adaptations of P.E.I. fiddling conjure up warm images of the old-time dances and gatherings that still thrive on the island. Kevin Chaisson on piano and John Rossbach on guilar offer just the right touch of accompaniment. You want to settle in and listen to this unique and comfortable album many times.
Express & Star (Wolverhampton UK: by Garry Copeland)
I first heard Ken Perlman more than 20 years ago on a banjo sampler released on Stephan Grossman's Kicking Mule label. Since then, he has established himself as the main man in the field of clawhammer banjo — successfully combining a career that includes writing excellent instruction manuals, recording and musical scholarship. This album is the result of field trips researching fiddle tunes from Prince Edward Island and Cape Breton. The material is a fascinating cocktail of Scottish, Irish and Acadian airs which Perlman plays on banjo and fingerstyle guitar accompanied by pianist Kevin Chaisson and guitarist John Rossbach. The result could have been a bit dry and dusty, but this is far from the case. All three musicians were obviously having a ball. This is an album clawhammerers won't want to be without.
Canadian Folk Music Bulletin
What happens when you take a guy who happens to be a co-inventor and prominent player of the "melodic clawhammer" banjo style and set him to studying fiddle music in Prince Edward Island? You guessed it — soon Ken Perlman was developing ways to play PEI tunes on the banjo, and now he's put out the results on CD for us all to hear.

Trying to play fiddle tunes on the banjo presents a couple of immediate problems. First, the instrument doesn't have the sustain of the fiddle. Banjo notes are short and choppy, so long- bow notes and other fiddle effects have to be fudged or left out completely. It's hard to be mellow on the banjo! Secondly, the characteristic metric patterns of the clawhammer banjo style don't always lend themselves to "non-square" rhythms. Witness most banjo players' struggles to play in 6/8 time, for example. A clawhammer player who's locked into the style may find it impossible to play anything other than reel-type melodies; if he wants to play other types of tunes, he'll have to be creative, and find ways to break free of the right-hand strait jacket.

So the jigs are the first touchstone as to whether this recording succeeds. I'm happy to report that Ken comes through admirably on the two tracks of jig medleys included. The notes are crisp, emphasized properly in the triplets, and Ken even gets in some of the "cranning" twists that a fiddler might use to attack the notes. Pickers wanting to venture into the wilds of 6/8 time should pay close heed to tracks 4 and 11 on the CD .For the recording as a whole, Ken seems to have made a sincere attempt to capture the individual feel of the original PEI fiddlers' versions of the tunes; at least, the "feel" varies from brushy and rhythmic to precise and staccato on various tunes. Even without hearing the fiddlers, though, this set of tunes is fine listening, and stands up well on its own merits.

Ken went to PEI for piano accompanist Kevin Chiasson, which I'm sure helps flavour the tunes as they'd be played on the Island. John Rossbach's guitar fills out the sound, sometimes helps drive the up-tempo numbers, and-the mark of a good rhythm guitarist-doesn't get in the way.These days "Celtic" music is being played on many instruments from outside the tradition, and clawhammer-style banjo fits nicely into this spectrum-quite differently than the tenor banjo, which has already become a staple… Ken Perlman's explorations will be of interest to Celtic music fanciers as well as banjo players. And pickers can revel in superb playing — this recording is a must-own for anyone who plays the style.
Gajoob Website (Reviewed by Kevin Slick)
Expert clawhammer banjo is featured on this album of traditional tunes from Prince Edward Island and Cape Breton. Fans of celtic music will enjoy this recording as will any old timey folk followers. Most of the cuts feature the standard old timey/Celtic fiddle tune instruments, all well played and recorded with a nice warm feel.

Perlman also switches to fingerstyle guitar on some cuts which brings to mind the work of Pierre Bensusan. This is a wonderful album that travels through the wide range of traditional music.The recording quality is excellent. The sound is clear without being sterile, the melodies shine through sounding completely natural. The players are all quite good, and they never sacrifice the essential elements of tune and feeling to show off. All of this goes together to make a great album of traditional tunes with an up to date feel, bringing the best of new ideas along with respect for the traditions.
John O'Regan (Irish Broadcaster)
Ken Perlman's Island Boy sounds like an intriguing idea on paper — take a selection of Prince Edward Island and Cape Breton fiddle tunes, and play them on a 5-string banjo with guitar and piano accompaniment. Not only is it interesting on paper, it is interesting to hear as the combination works quite well together… "Lord MacDonald's Reel" and "Belfast Jig" both rely on energetic interplay with banjo, guitar and the unique Cape Breton piano style working together. The fingerstyle guitar solo "Glenfiddich Strathspey" adds an almost baroque change of tempo. Island Boy is an excitingly varied and energetic album…with a delightfully different approach.
Banjo Newsletter (By Dan Levenson)
When the general population thinks banjo, most of them think in terms of Bluegrass, Dixieland, old time, or Irish tenor-style music. Few people associate the banjo with other types of music. It's only recently that folks like Bela Fleck have openly challenged those cliched visions of the banjo's place. For many years now, one of the people to take exception to this restricted view of the banjo's position has been Ken. He was the first person whose music made me realize how versatile the banjo could be.

In my opinion, Ken is the undisputed king of the melodic banjo style, and with "Island Boy" he once again shows us all why… I know there are other great melodic players but none of them have mastered that style and applied it as Ken has. This album takes Ken's work many steps beyond what he's done in the past. On " Island Boy," Ken applies his style to the uniquely regional style of Prince Edward Island and Cape Breton. This is where Ken really stretches the limits.

Having spent several years studying the style and playing with the top "old timers" of the P.E.I. area, Ken has incorporated the feel and texture of this music to the point that he makes it his own… It's one thing to "play the tunes," and quite another to play the music; and yet another thing to understand the music you're playing. Ken does all of these and it shows on the album…This album is a brilliant illustration of the versatility of the banjo and Ken Perlman. It has crept into my list of CDs that just stay in the machine and get played over and over. I would put it on the MUST HAVE list for those of you who want to hear what a banjo can do in the right hands — and Ken's are the right ones for this music.
Northern Journey Online
American multi-instrumentalist and folklorist Ken Perlman has compiled a wonderful selection of fiddle tunes from Prince Edward Island. Drawn from Perlman's field recordings of PEl music, the compilation was published both as a CD and as a book with the tunes transcribed. A Mel Bay publication, the book and CD are titled The Fiddle Music of Prince Edward Island: Celtic and Acadian Tunes in Living Tradition (1996)…

By itself, the compilation is a great gift to Canadian music, but Perlman has taken it a step further. A gifted instrumentalist and teacher, Perlman has taken many of the tunes from the book, plus a few from Cape Breton, and transcribed them to banjo, and occasionally to guitar, on Island Boy (1996). Hearing these familiar tunes played on banjo gives them new life and freshness. Kudos to Perlman for this original, delightful album. As with Lee Murdock, we declare Perlman an Honourary Canadian for his outstanding contribution to Canadian folk music.
Memphis Dateline (by Fetzer Mills)
The playing on it is exquisite and the tunes are heartbreakingly beautiful.
Old-Time Herald (by Jon and Marcia Pankake)
Ken Perlman occupies a position in old-time music analogous to that of Stefan Grossman in tile blues. That is, each man is a consummate instrumental performer who is even better-known as a teacher and author of book, sound, and video instruction based on traditional playing styles. Island Boy presents Perlman as performer, playing fiddle tunes he collected on Prince Edward Island, and this disc serves as an illustration of his fine article in the O.T.H. (vol. 6, no.2). Here he has arranged the jigs, reels, and strathspeys for clawhammer banjo unobtrusively backed by guitar and piano, and, in some examples, for solo fingerstyle guitar.

The tune repertoire of PEI has developed independently of fretted instruments, and Perlman has done a solid job of translating its bowed nuances to the banjo. At best, 6/8 rhythm is quite difficult in clawhammer and triplets and grace notes require great skill to execute. Perlman has developed a tremolo with his picking index finger for the triplets which not only works but also links his playing with contemporary Celtic banjo. The slower strathspeys and airs are rendered here in lush solo guitar arrangements which have much of the same dreamy appeal of the O'Carolan airs currently popular among soloists of the DADGAD persuasion…
All-Music Guide (by Rick Anderson)
With Devil in the Kitchen, Ken Perlman proved hat you can play Celtic music very effectively on the clawhammer banjo. With Island Boy, he shows that the same is true of the music of Cape Breton and Prince Edward Island. The results are every bit as lovely this time out, and may be a bit more accessible to the average listener, since the texture of the music is enriched by the addition of accompanying guitar and piano.Most of the tunes themselves come from Irish, Scottish and French-Canadian sources; what makes them regionally distinctive is the playing style, which tends to be a bit less frenetic and more deliberate than is the norm for traditional Celtic music, though with the piano pounding out the backbeats it's all you can do to keep from dancing around the room while you listen. There are particularly nice arrangements of "Inverness Jig" and the "Upper Denton Hornpipe" here, and Perlman trades in banjo for guitar on the stately "Glenfiddich Strathspey"/"Homeward Bound" set… All of this is thoroughly delightful listening.